Ninety per cent of the existing data worldwide and throughout history have been generated within the last two years. Every day, newspaper headlines emphasise how much we have entered into the era of data, and how artificial intelligence is penetrating all functions and activities. Each and every company today is trying to make sense of the tons of data they are accumulating in order to enhance their business impact. And yet, as the volume of data available to decision makers keep growing, businesses can barely ingest it. Companies still struggle to make data flow across the organization and unfold the digital transformation they know would change their business dramatically.
Fundamentally the question is: how to bring your company to be really data-driven?
This is relevant not only for current business stakeholders in re-shaping their Company, but is also a very critical factor in setting the right targets and expectations from the recruiting industry in acquiring the right talents to join forces in moving towards a data-driven enterprise. The onus is, therefore, also shared with recruiters in the Data & Analytics space to better understand the cultural and technical changes in the operations of a company where you want to make the placements.
In this 3.5h-long workshop, I will identify different solutions, which could be implemented to help see the business through such a transition, illustrated with real cases from companies in Classifieds I worked and consulted for.
In particular, I will address the following points:
1/ Data transformation is a technical problem …
Given the wealth and complexity of data solutions available, how company can identify the technical stack which could help them to become more data-driven? How to share data across the company efficiently without compromising accuracy, integrity and building redundancy? From a Data Infrastructure and architecture stand point, how to differentiate if a data lake is more appropriate than a Traditional Data Warehouse? Should the company opt for cloud based or on premises solutions? Regarding visualization of data and Business Intelligence, which tool to choose, for which purposes? Should we opt for home-brewed or out-of-the-box solutions?
2/ … but it is also, and maybe most importantly, a cultural transformation!
Data driven mind-set requires you to constantly question your business, to experiment and be open-minded; and be open to learn. How to ensure that the stakeholders across the organization (from marketing, to product, to finance and to sales) are ready and trained adequately? The main problem lies in how to share responsibility & ownership (data lineage). Traditionally, everything related to data was the sole headache of the BI department, but transforming a business to a data-driven one requires the different business units to own their metrics and the product teams to be responsible for the data they generate.
3/ Finally with data taking such a central role, what is the effect on the data teams?
How to find the right balance between centralized and decentralized teams? The Data expertise is more and more spread between different specialists: BI engineers, data engineers, business / data analysts, data scientists, machine learning engineers, etc. Who does what, and how to structure the teams? Does my organization really need one of these fancy Data Scientists? For those in the recruitment business, the question to ask oneself would be: as a recruiter, which Data expert should I recommend to my client for which role?
About Sébastien Foucaud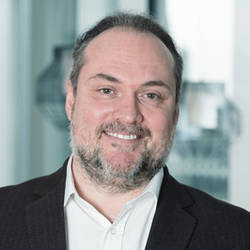 Dr. Sébastien Foucaud
Managing Director and Co-Founder

Dr Sébastien Foucaud holds a PhD in Astrophysics. He has experience building large data management facilities exploiting Big Data and machine-learning based technologies. He has a rich industry experience in the Classifieds sector (OLX/Naspers Classifieds and Scout24), and has developed and lead data teams from scratch, implemented strategies and roadmaps for Data products, Data Infrastructure and Business Intelligence Solutions.
As Managing Director and Co-Founder of certace, Dr Foucaud identify potential business opportunities with certace's clients, and help design the best strategy and approach to successfully execute data science and artificial intelligence related projects, leveraging certace's network of independent data experts.